A few of us had a long overdue trip down to the wye yesterday, the first in 18 months for me. Conditions were perfect weather wise with cloud cover all day, but the recent good weather meant that the river was far lower than ideal and was still at a usual summer level.
Never the less we headed of full of optimism, with Andy and young Jack heading off in front with neighbour Gerry to some of the usually productive swims, with the task of trying to get him his first pike. Meanwhile me and Foxy worked our way through the pegs left behind, and both turned a couple of fish with me landing a nice jack of 5lb.
We caught up with the others just in time to see Gerry into his first pike, and a good one at that, charging around the swim with Gerry holding on and the reel singing. It was a great sight through the clear water, and we all estimated it to be a low double. Our estimates soon changed as we got it in the net though, this was a cracker and went 17lb 8 on the scales.
I headed upstream with Foxy to another usually productive peg, and instantly landed a nice upper single. I let Foxy have a go in there after a few more casts, confident that there were no more pike in there, only for him get nailed by a nice double of 13lb 7!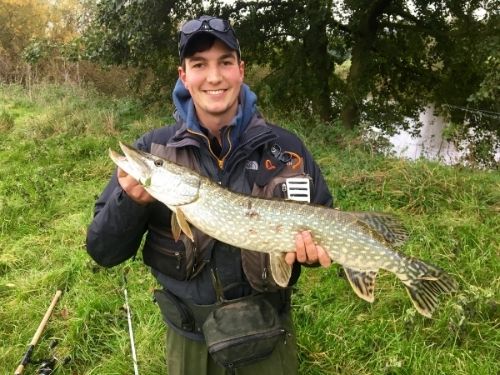 We doubled back at this point and headed downstream to the salmon water, dropping into a few pegs on the way. Foxy has been trialling some single circle hook rigs, and was duly nailed twice only for both fish to miss the hook. I dropped into the peg where Gerry had his double, and by fishing a bait slower and deeper produced two takes in as many casts - an upper single and scraper double were landed with the help of young Jack.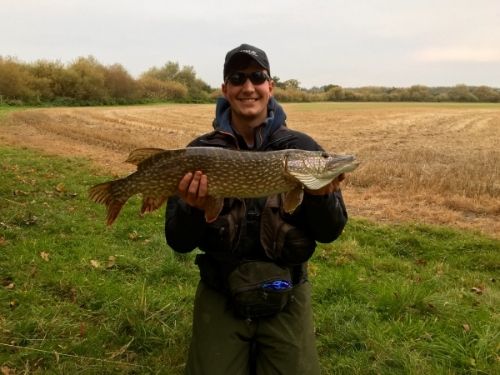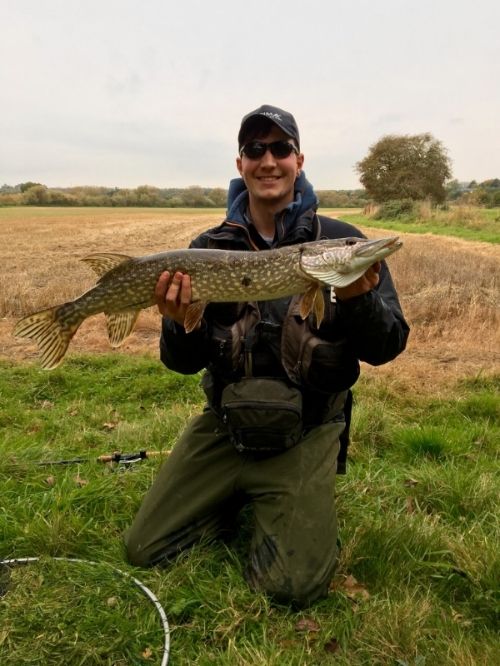 At this point we thought we might be in for a bumper day, but to cut a long story short the rest of the day was very tough. Once again the salmon pegs, which, despite looking like some of the best pike swims on the stretch failed to produce anything. We got in the cars and headed to the other end of the stretch which none of us had fished before. Again, we fished some nice looking deep water without reward, before Andy eventually managed a 6lber to save his blank.
A couple of extra feet of water on and it should be perfect in the next month.